Maverick Boat Adventures 'achieve goals' with help from Business East Sussex Growth Hub
Paul Burns knew that his business needed a clear direction for the future, but he wasn't sure the steps he needed to take.
He contacted the Growth Hub to discuss his current plans and to work out how to move his business forward.
If we can help you too, contact us on 01273 335878 or email us at info@businesseastsussex.org.uk.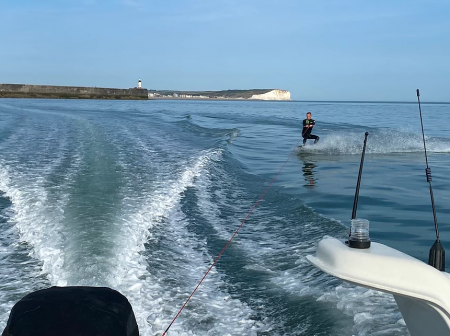 Paul started Maverick Boat Adventures in 2019 with his wife Sophie, with the aim of providing all disciplines of water activities for all ages and abilities. Based in Newhaven Marina, the business offers anything from wakeboarding to water skiing to inflatable rides and skippered boat chartering.
Paul approached the Growth Hub to discuss the future of the business after wondering how he could effectively achieve his goals. "I wanted to understand if I was on the right track with my business plan and if I could receive help towards achieving each milestone of my goals", Paul said.
How did the Growth Hub help?
Business Navigator Steve Piper got in touch with Maverick Boat Adventures and provided a business diagnostic to better understand their story. Paul commented, "the time discussing my business plan provided me with the confidence and excitement to keep pushing the business forward."
The height of the pandemic saw mass temporary business closures due to nationwide coronavirus restrictions, but Steve provided support with helping the business to prepare to access a match-funded grant, which helped to ensure the business continued to operate with ease.
Steve has continued to support Paul and has successfully navigated him to other sources of help and advice. Most recently this included signposting Paul to help and guidance with structuring the business' cash flow forecast.
Final thoughts
Paul found his experience with the Growth Hub to be beneficial in achieving the goals he had set out for his business. He commented, "starting a new venture is very difficult and stressful at times; you just need a little help to get you through it, which is what the Growth Hub has certainly provided me. The advice and help the Growth Hub helped me to access has contributed towards the employment of a new member of staff, which has freed up more time so that I can push towards the next major milestone in the business. The Growth Hub has given me the confidence that the company will do well."
To learn how the Growth Hub can help your business through these unprecedented times please contact us on 01273 335878 or email us at info@businesseastsussex.org.uk.