Meet The Pished Fish, the creators of alcohol-infused smoked salmon
James Eagle, the owner of The Pished Fish and a true master of flavour, is on a mission to revitalise salmon's clean-living reputation by shining a light on its more mischievous side with the creation of this daring and decadent new delicacy.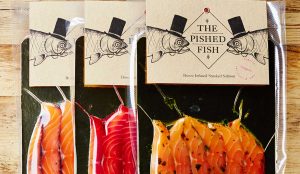 From its smokehouse in Berwick, The Pished Fish combine the delicious nutritional goodness of premium Scottish salmon (packed with omega-3 fatty acids, potassium, B vitamins…) with the majestic flavours of the very best spirits and botanicals. As a result, James has a well-earned reputation as a pioneering talent in the luxury food market.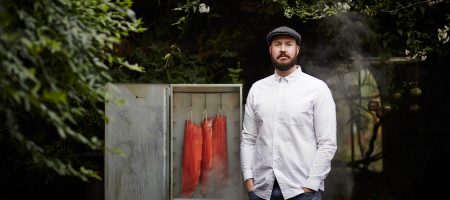 This quirky start-up business began as a hobby for James in a tiny smoke-house at the bottom of his garden. The positivity and encouragement he received from family and friends spurred him on to take his passion to the next level:
"A wise man once told me to try and do something with your true passions in life, hence smoked salmon and booze"
From its beginnings as a sell-out food stall, three years on The Pished Fish has a client-base across the country and a growing reputation throughout the UK's buoyant independent deli scene.
The Pished Fish range can be found in top luxury food halls of London's Selfridges, Fortnum and Mason as well as select Waitrose stores. Defining his target audience, James explains, 'We want to be stocked in high quality, independent retailers who support small artisan producers like ourselves.'
James applied for help to fund a project set to accelerate business growth rapidly in the beginning of 2018. In order to cut the costs of using expensive chilled courier companies and to achieve a higher level of food safety accreditation, The Pished Fish was awarded with an ERDF South East Business Boost Grant to support the purchase of a mobile chiller van.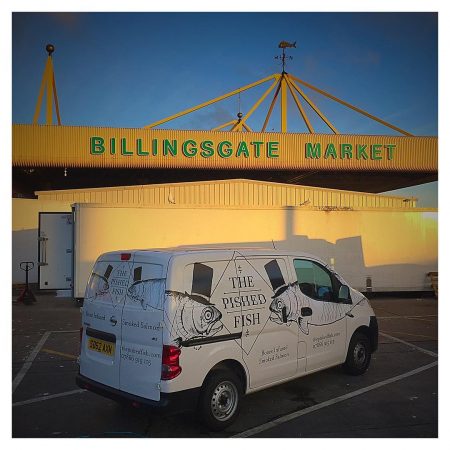 This provided The Pished Fish with the ultimate opportunity to cover a larger geographical area and cater to a larger client base then ever before. Following the support provided by Business East Sussex, The Pished Fish is now ready to deliver larger volumes of produce to not only customers, but a greater number of high-end retailers, with distance and third-party costs no longer a barrier.
What's all the fuss about?
With every ounce of effort to attain the perfect balance of flavours, the fillets are slow-cured in sugar, salt, spices and liquor for many hours, before being thoughtfully smoked in small batches over wood. As a finishing touch, the fillets are sliced sashimi-style to capture the full, distinctive yet delicate flavours.
Not only does it taste good, it is sustainably sourced too. RSPCA assured, 95% of the salmon is sourced from Loch Duart, the pioneers of salmon welfare. Best said by the man himself, James describes The Pished Fish as:
"the mischievous, charming dinner guest who livens up any social situation"
On the infusion menu is everything from the classic cocktails, such as The Gin and Tonic (salmon cured in gin, juniper, grapefruit and lime) to The Margarita, guaranteed to hit the spot for the tequila lovers.
Otherwise, fans of Charlie and the Chocolate Factory will enjoy The Augustus Gloop, consisting of mouth-watering salmon enriched with raspberry vodka and blueberries. The Pished Fish offers up a sober salmon, too. The cleverly titled Designated Driver is alcohol free and delicately smoked over juniper and cherry.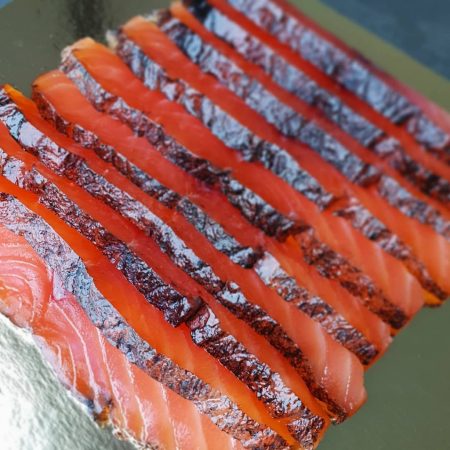 When asked about future plans for The Pished Fish, James responds:
"to keep innovating our smoked fish range to give our customers a wider choice of flavours whilst ensuring we maintain the quality we have become renowned for"
Forget your standard supermarket produce, these devilish cocktail themed dishes are more than enough to tantalize even Gordon Ramsay's taste-buds.
Are you a foodie looking to start your own business? 
If you're not sure where to begin, let us help you. Get in touch today to find out more.