About
HA Acoustics specializing in environmental noise monitoring, impact assessments, architectural acoustic solutions and sound insulation testing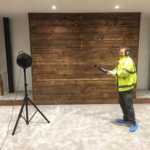 The Journey
A young Essex based environmental consultancy, operating in the niche field of acoustics since 2013, handling projects nationwide. In November 2018, we gained United Kingdom Accreditation Service (UKAS) endorsement to operate as a Testing Laboratory for Sound Insulation Testing of new-build and conversions to residential, enabling sign-off under Part E of the Building Regulations.
Support Provided
The problem was that the implementation of this new service area led to requirements for new equipment and accounting support. Best Growth Hub's Jacqui Stimpson recognized our growth potential and we applied for:-
Keep+ Grant – to purchase the dodecahedron speaker and the sound level meter (as seen in use in the photographs)
Attended a 2 day finance workshop- which taught our director the importance of splitting payments to create straight lines and to move to a digital tax system, ahead of tax-goes-digital and which has enabled monthly P&L accounts to be produced.
Jacqui continues to work with us letting us know of anything else that can help our growth.
Business Support Benefits
Increased our ability to work with global entities such as Proctor & Gamble, Molton Brown, Wilmott Dixon and Buro Happold.
Enabled our new UKAS Sound Insulation testing service to produce an increase in turnover
Employ more local staff to help cope with demand.
For our young company, support from the Best Growth Hub's Jacqui Stimpson has been invaluable helping us access funding which we didn't know was available and giving us confidence to invest in the business to take it to the next level
Director & Principal Acoustician