About
Manufacturers of RFI/EMI shielding gaskets and components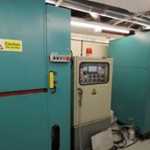 The Journey
Kemtron helps customers meet their RFI/EMI shielding and environmental sealing requirements with innovative RF solutions that enhance product performance, reduce through life costs and ensure regulatory conformance.
They have  provided a specialist service in EMI Shielding, RF Shielding, O-rings & EMI shielding gasket and component solutions for over 30 years and has developed unparalleled experience and expertise in design, manufacture and support.
Support Provided
Victoria, MD contacted the Growth Hub in relation to the new SEBB Grant as they were looking to expand their knitted wire mesh product range.  A new machine would cost in the region of £30,000.
SEBB Grant awarded – to purchase a Tritex Knitting Machine of £8595.
LoCASE Grant awarded – 2 x Moulding Press £8326
Employee attendance at GH Advanced Twitter & Linked in workshops
UKTi – helped to secure the Kemtron.de website in Germany
MGP – Grant to develop a leadership training programme
Business Support Benefits
Revenue in the knitted wire mesh product range has doubled
Employed 2 new staff
Increase in though put and efficiency machinery of moulding productivity resulting in a 15% increase in turnover in this part of the business
Improved staff capabilities in social media channels
Lifted the knowledge and understanding of the middle management team helping them to take on additional responsibility to free us the Directors to look more strategically at the business.
German website allows them to promote themselves as Germany company and develop their export market.
The Growth Hub are an invaluable source of one stop information.  We have used them incredibly successfully to help us develop the business and to provide support and assistance.
Managing Director