SEBB Grant helps to fund furniture maker who brings ordnance survey maps to life
British designer and artisan, Tom Aylwin thrives on creating bespoke, high quality furniture.
Using a background studying geology, his pieces are beautifully rich with history and are largely inspired by our connection to nature.
  "Sussex landscapes frequently feature in my work. The shapes seen in downland with its smooth, dry valleys and the glimpses of chalk and flint layers beneath are constantly inspiring"
A combination of Tom Aylwin's passion for geology and his skills as a fine craftsman led to the creation of Contour Boxes, a product which captures the emotional attraction held for a favourite place into a work of art that clients can treasure for a lifetime.
Made from earthy English Oak, clients have the opportunity to choose their favourite place to be recreated accurately from ordnance survey data. The final result is a three-dimensional wooden landscape carved to scale using CNC technology.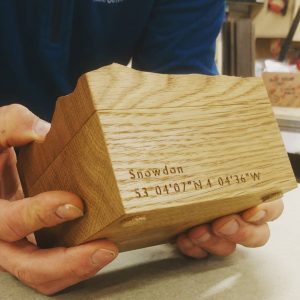 Business East Sussex collaborated with Aylwin on his journey and awarded him with a SEBB grant in order to increase efficiency in the workshop. As contour boxes are in increasingly high demand, Aylwin got in touch with the Growth Hub for help with the purchase of new machinery to enhance his productivity. The new equipment will reduce costs for the business and boost the profit margin, allowing Aylwin to progress further and rival competition in the field.
With experience in the industry for twenty years, Aylwin specialises in high-end furniture design and cabinet making with a worldwide client base. Highly trained in Fine Furniture Design and Craftsmanship in Oxfordshire, Aylwin has run his own business for 14 years directly from his Lewes workshop.
Having previously worked for designers in both France and the UK, he also exhibits his works of art with the Sussex Guild. A visionary in the manufacturing industry, Aylwin uses his talent to pair thoughtful and innovative design with eco-friendly materials. Dedicated to using British only hardwoods, Aylwin ensures that sustainability is at the heart of every success.
Lewes, along with the rest of the county, are aware of the challenges facing us due to climate change. The district is moving towards a circular economy and changing the status quo, with local businesses keen to follow suit. Filled with hidden gems, Lewes and the surrounding countryside are rich with carpenters, manufacturers and designers of bespoke wooden furniture.
A stone's throw away is Timberdeal, an eco-friendly business situated in the outskirts of Lewes that specialises in transforming wooden planks into sustainable luxurious furniture. Situated further afield, Johnson Bespoke in Hastings is a team of craftsmen, manufacturers and designers that combine skill and expertise. Specialising in joinery and furniture, the team also tailor to commercial shop fitting and interior design. Manufacturing is fast becoming a thriving sector across East Sussex, with most businesses turning towards ecological methods of sourcing their materials.
Aylwin works on a commission basis and his work is showcased in exhibitions and on sale in galleries around the country. His success is not only a measure of his unique skills as a woodworker, but also as a designer with a keen eye for detail. Offering furniture with a twist, Aylwin's business thrives on his inspiration from the county's scenic landscapes and picturesque views.
Like a true craftsman, Aylwin leaves no stone unturned in pursuit of creating sustainable products that stand out amongst competitors. Memories fade, but with Aylwin's help, clients can give the perfect gift for Christmas this year that will last forever.
For more information visit Tom Aylwin's website here
Take a further look at how contour boxes are created:
Are you looking to turn your business idea into a reality, or have a business already itching to expand?
Get in touch with Business East Sussex, to see how we can help you achieve your goals and kick-start your business journey into success.