Thomas Gontar, Glynde Forge
Thomas Gontar is a successful blacksmith based in the idyllic East Sussex countryside. We visited to learn more about his process and how South East Business Boost grant helped him expand his business, by assisting with the purchase of a new piece of machinery. Watch the video or read the case study below to find out more: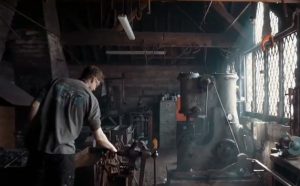 Vintage horseshoes and farm and farriers' tools, made by previous smithies, still hang from the rafters at Glynde Forge. Although the current blacksmith isn't a farrier. In fact, when Thomas Gontar was first asked by his friend – a stone mason – if he would ever consider a career in blacksmithing he laughed, "I don't even like horses", he replied.
Thomas Gontar is a modern-day blacksmith making bespoke designs for people eager for custom-made metal items for their homes. Like many traditional crafts and artisan trades, blacksmithing is enjoying something of a revival as people turn away from mass produced products, for the high-quality locally sourced goods.
Thomas now has his dream job. He runs the 300-year-old stone forge in Glynde, a picturesque village just outside Lewes. In an area famous for opera and the annual jazz festival, Glynde Forge is a local landmark whose history can be traced back to the year 1701, when it was owned by the Taylor family of Blacksmiths for two hundred years, before it was demolished and rebuilt.
Like any true craftsperson, Thomas uses traditional tools and techniques to create contemporary designs, and his work is in high demand by local customers.
Following his completing of his blacksmithing and metalsmithing studies at the renowned centre for excellence Plumpton College, with a triple distinction and the award for top overall student, Thomas spent a number of years honing his skills at Alex Poll Ironwork in Somerset as he developed his own practice creating contemporary and traditional ironwork.
As an East Sussex native, Thomas returned in May 2016 looking to start his own business. Hearing that the Forge had come up for sale, he met with Lord Francis of Glynde to discuss what they had in mind as the new village blacksmith.
Thomas contacted Business East Sussex to apply for a business grant to help him buy a rare and sought-after piece of equipment – a 1935 Alldays & Onions power hammer used in blacksmithing to shape and create all the different components for sculptures and intricate metal work. Originally manufactured in Birmingham, the hammer was found by Thomas in Scotland.
'It's an extremely heavy piece of equipment, and it involved a difficult and lengthy task of transporting the hammer from Glasgow and manoeuvring it into position in his new studio, and then getting it hooked up to the electricity, but it was well worth it.'
The work I'm producing now is a lot more interesting. It's speeding up my productivity and it has opened up new doors to what I can create.'
'It was one of the easiest application forms I've had to do', said Thomas on the SEBB grant application form. 'For any person starting up a small business, I would recommend getting a ­helping hand, if you need it. It's been vital for me.'
You can visit the Business East Sussex website to learn more about SEBB at www.businesseastsussex.org.uk/south-east-business-boost/ 
To find out more about Glynde Forge, visit the official website: www.glyndeforge.co.uk/