Business East Sussex teams up to deliver webinar series
Published on in Coronavirus & News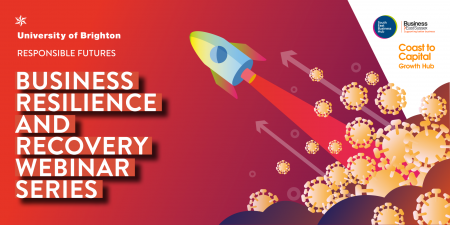 Top experts are coming together to help Sussex businesses recover from the pandemic lockdown.
The University of Brighton's Centre for Change, Entrepreneurship and Innovation Management (CENTRIM), Coast to Capital Local Enterprise Partnership, and Business East Sussex have teamed up for a four-part webinar series aimed at offering insights and support to businesses.
The webinars have been created in response to themes emerging from sessions with businesses since the outset of the pandemic.
The series and CENTRIM speakers:
Professor Debra Humphris, the University of Brighton's Vice-Chancellor, said: "University staff and students have volunteered to help the NHS wherever they can and we now stand with our partners to do the same for businesses which have suffered greatly through this dreadful crisis."
Jonathan Sharrock, Chief Executive at Coast to Capital said:
"We are pleased to support the CENTRIM webinar series in collaboration with the University of Brighton and Business East Sussex. We are continuing a strong dialogue with partners on an economic recovery plan and I look forward to hearing updates from the upcoming events."
The webinars will run between 12-1pm on the above dates and there will be questions-and-answers.
Events will be hosted via Microsoft Teams Live and links will be sent to registered delegates.
For more information and booking details, go to: https://centrim-recovery.eventbrite.co.uk